Two days before the May 13 elections, the Commission on Elections (Comelec) and the Philippine News Agency websites appeared inaccessible to the public. Cursory inspections of the websites of the Philippines' Departments of Interior and Local Government, National Defense, Foreign Affairs, and Science and Technology, showed they were also apparently inaccessible.
The pages for the Philippine National Police, the Army and Navy, and the Philippine Information Agency also could not be accessed.
As of 4:10 pm., the Department of Science and Technology (DOST) acknowledged and confirmed distributed denial of service (DDoS) attacks occurring against government sites, but they did not mention where the attacks came from.
In a text message to Rappler, Roy Espiritu of the DOST ICT Office said the attacks started on May 10 on gov.ph, then to additional gov.ph-based websites on May 11. He added that the DOST was working on neutralizing the attacks and determining the source. They are also assisting government agencies outside their secured servers who have asked for help.
Interaksyon.com earlier reported on the possibility of the downtime being caused by a cyberattack, but noted that the Facebook page of Anonymous Philippines, a hacker-activist group, stated they would undertake no operations during this time.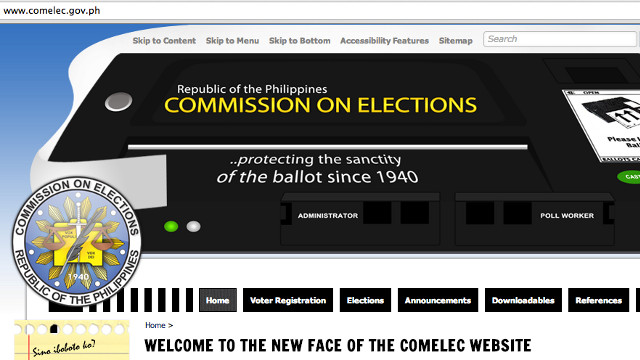 GMA wrote that its technical team "detected an overnight cyberattack that was still ongoing as of posting time on numerous Philippine websites, including GMA News Online, ABS-CBN News, Philippine Airlines, Globe, Smart, and more than two dozen Philippine government websites." Based on referrer tags and forum activity, GMA also added the attacks seem to have come from Taiwan, linking to a Taiwanese webpage that seems to have reacted positively to the Philippine site downtime. The possibility of a cyberattack related to Philippine-Taiwanese tensions resulting from the shooting of a Taiwanese fisherman was also raised.
While no announcement has been made by the Philippine government, Comelec spokesperson James Jimenez mentioned previously to Rappler that the Comelec website may have downtime due to the number of people visiting it, as well as the location of the Comelec website servers. It also repeated this in a recent tweet.
As of 2:30 pm., Rappler could access the site, which appears to have had a redesign in time for the elections.
With regard to election issues, those seeking information from the Comelec about finding one's voting precinct but cannot access their homepage can contact the Comelec through the following hotlines: 525335; 5259297; 5259301; 5259302; 5259345; 5271892; 5516552; 5521451; 5523044. – Rappler.com
For protection against your eCommerce site click here.
Source: http://www.rappler.com/nation/28804-philippine-government-sites-inaccessible