On Friday, US authorities arrested a man on charges of launching DDoS attacks and making death and bomb threats against several targets including Leagle.com, the Sydney Morning Herald, the Canadian Broadcasting Corporation (CBC), Metro News Canada, the official website of the Canadian government, and others.
The man's name is Kamyar Jahanrakhshan, a man born in Iran, who later obtained US citizenship in 1991, and then a permanent residency in Canada in 1995.
Suspect wanted his criminal past erased from the Internet
According to court documents obtained by Bleeping Computer, after his deportation, Jahanrakhshan started sending emails to online websites that had written articles or had copies of his past criminal record.
The first organization that Jahanrakhshan targeted was Leagle.com, a website that offers copies of court opinions and decisions. In the beginning, Jahanrakhshan contacted the site's team from his personal email address, asking them nicely to remove copies of past court decisions mentioning his name on the premise that it was tarnishing his reputation and violating his privacy.
When the Leagle team refused, the suspect even offered to pay a $100 fee to have the documents removed. When Leagle refused again, Jahanrakhshan — who also used the name "Andrew Rakhshan" — sent them a threatening email saying he made friends with dangerous hackers and they should heed his final warning.
Suspect poses as group of Anonymous hackers
After Leagle had ignored him again, US authorities say Jahanrakhshan launched a DDoS attack on the site's servers and sent an email from a Yahoo account posing as a member of the Anonymous hacker collective.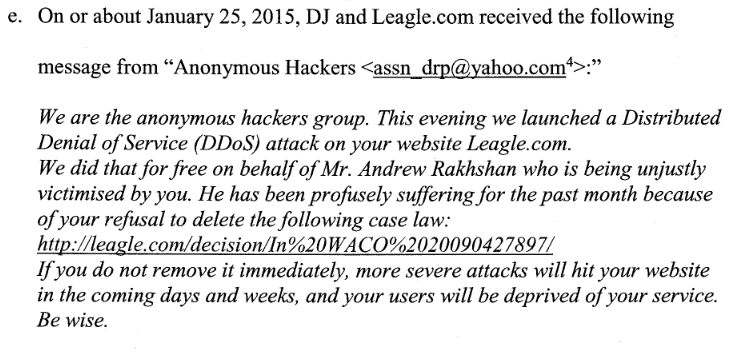 US authorities say they found evidence linking Jahanrakhshan to this email account, but also to others emails linked to other DDoS extortions.
Because they couldn't handle the DDoS attack, Leagle eventually removed a decision that Jahanrakhshan had asked. The DDoS attacks stopped after.
Initial success leads to more DDoS extortions
The FBI says that after having forced Leagle to remove a damaging report on his past criminal record, Jahanrakhshan moved on to other targets.
During 2015 and 2016, Jahanrakhshan would allegedly engage in a similar behavior and take aim at other online publications that had written articles on his past crimes, such as the Sydney Morning Herald, Canadian Broadcasting Corporation (CBC), Metro News Canada, and the official website of the Canadian government.
To put extra pressure on his targets to remove damaging articles, authorities say he also launched DDoS attacks on the websites of customers advertising on CBC and Canada.com — Postmedia and the Inspiration Foundation.
Seeing that all this failed and none of his targets removed the incriminating articles, Jahanrakhshan also moved on to sending bomb threats at the offices of targeted organizations and death threats on family members of employees working for the targeted organizations.
He was arrested this week and arraigned in court on Friday. The suspect, if found guilty, could face up to five years in prison and a fine of up to $250,000.
The damaging articles Jahanrakhshan was trying to take down described how he used fake credit cards to buy a fleet of luxury cars and a boat
Source: https://www.bleepingcomputer.com/news/security/ddos-extortionist-who-posed-as-anonymous-hacker-arrested-in-the-us/