Business is under attack to the point of all out cyber war, and there is nowhere more lucrative right now than cyberspace, where a $200-billion-plus market is ripe for investors looking to turn profits that make the pre-bubble dot.com era look like chump change.
There are plenty of catalysts, thanks to hackers who most recently managed to hijack the systems of one of the biggest shipping companies in the world, one of the biggest pharmaceutical companies in the world and thousands of others—forcing them to pay ransom in bitcoins to get their data back.
There will be no slowdown in cyber-attacks. On the contrary, by 2019, IDC research estimates that 70 percent of major multinational corporations will "face significant cybersecurity attacks aimed at disrupting the distribution of commodities."
Cybersecurity stocks were soaring already—especially since hackers in May managed to take control of tens of thousands of computers. But the late June perfection of cyber kidnapping for ransom has caused stocks to spike by 4 percent or more.
According to giant Cisco, there was a 172 percent jump in DDoS (distributed denial-of-service) attacks in 2016, and we'll be looking at a near tripling of that by 2021. Just in the first quarter of this year there was a reported 380 percent increase in DDoS attacks, according to Nexusguard.
Data breaches cost businesses $5.85 million EACH in 2014. This year, that bill will be in the neighborhood of $7.35 million. In total, last year, cybercrime cost the global economy over $450 billion. The cyber-attack on global business in May this year alone could end up costing $4 billion.
So, giant multinational corporations are willing to pay a lot for better cybersecurity—and cyber insurance.
Global spending on cybersecurity will hit $1 trillion over the next five years, and cybercrime damages will exceed $24 trillion over the same period, according to the Steven Morgan Cybersecurity Industry Outlook: 2017 to 2021.
And this is where the big profits are available for the taking. For the foreseeable future, nothing is more lucrative than data security.
Here are our top 5 picks as cybersecurity becomes THE most critical industry of our time:
#1 FireEye, Inc. (NASDAQ:FEYE)
This is one of the most impressive cybersecurity barnstormers out there. It only went public in September 2013, and by December that same year it was spending $1 billion on a major acquisition, Mandiant, which was one of the top data breach and response companies in the space.
This is now a massive and fast-growing company of highly sought-after cyber experts and products, all rolled into a cloud-based platform that is a favorite among key Fortune 500 companies, not to mention Global 2000 companies.
There was a very aggressive acquisition spree here—and last year the company moved into the black. FireEye peaked in mid-2015 at $55 a share, and then slid to under $11 in mid-March this year. But since then, it's gained 42 percent and the trajectory looks fantastic, especially in the current cyber warfare climate.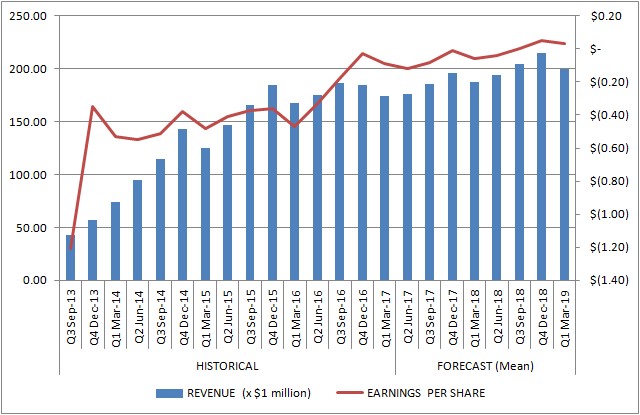 #2 Identillect Technologies Corp. (TSXV:ID; IDTLF:US)
This is a little-known company sitting in pole position in a $64-billion market that is up for grabs. It's come up with a two-minute email security solution that could revolutionize encryption, and could corner the lion's share of the profits in this segment.
Half of all email is unencrypted—and it's at the mercy of pretty much anyone with decent hacking skills. Existing encryption programs are expensive and can take a month to install, but this company is breaking onto the scene with a simple, 2-minute email install solution.
It works with Outlook, Office 365, Hotmail, Gmail…PLUS a phone "app" that works on iPhone, Android, Windows and more.
There are only 250 professional cryptographers in the U.S… and two of them work at Identillect - a major selling point for this company coming right out of the gates.
Customers are lining up because it's the first solution to a long-time problem that's now reaching a climax, with companies being fined for NOT encrypting email. They're already paying an average of $7 million for every data breach.
This company is on its way to Silicon Valley, and its patent on the first easy solution to a massive problem is likely to get it a lot of attention in the form of M&A rumblings that dot this cybersecurity landscape. Even more so right now.
Since it went commercial in the first quarter of 2015, subscribers have grown over 663 percent, and 19 out of 20 of them stay. They're compounding monthly, and the breakeven point is almost there. That's why we're looking at a 70 percent profit margin in this one.
With 5 million Yahoo accounts breached in just one of many huge-scale incidents, encryption is the Holy Grail of our day, and this company has figured out how to make it cheap and easy.
#3 Palo Alto Networks (NYSE:PANW)
For expansion, this $12.7-billion market-cap company is a top pick with its sales of next-generation firewall solutions. It covers 150 countries and it protects data infrastructure of at least 85 Fortune 100 companies and—even better—more than half of the Global 2000. That's some major market share at a time when there is nothing short of corporate panic over data infrastructure protection.
It even beat its own outlook. We're looking at mind-blowing record earnings ($431.8 million in fiscal Q3). This is the clear advantage in the cybersecurity space right now—and it's all about continual, relentless expansion.
#4 Intel Corporation (NASDAQ:INTC)
Nothing dominates the semiconductor industry like INTC. We're looking at over seven divisions here, but the Client Computing Group (CCG) and the Data Center Group (DCG) are the big ones in terms of financial performance, accounting for 87 percent of the company's total sales last year. INTC dominates the PC market and the server microprocessor market, and its PC chip market share can be as high as an unbelievable 99 percent.
Still, some might say this pick is the counter-intuitive one, but…not really. INTC stock has taken a major beating, but with this sector on fire like no other, this is your way in with the giants in this field. INTC had an official correction this year and April earnings caused Wall Street to beat it down. But INTC is still 10 percent higher than last year, regardless. It's cheaper than its competitors right now, so this may be a buying opportunity.
What investors are afraid of, though, is one competitor in particular…our next pick…
#5 Advanced Micro Devices, Inc. (NASDAQ:AMD)
This stock has seen some unbelievable performance over the past year, and that's why INTC investors are shying away. But while AMD has been impressing beyond belief, we list it as #5 because it's largely thanks to enthusiasm and future expectations—so there may be a pullback soon. This is the time to keep a close eye on AMD, but also to be very careful about watching whether the company is now going to actually achieve its goals—because the expectations are quite high and now much more is at stake. It's the right industry to be doing this in, certainly…
While AMD had a truly dynamic growth spurt that began in March last year, since February this year, it hasn't reached any new highs, and the launch of its Ryzen line of products wasn't embraced by the market with as much excitement as expected. Now things are getting a bit more volatile, which is why INTC might be a better pick right now.
Honorable Mentions in the Cybersecurity Space
BlackBerry Ltd. (TSE:BB): Forget about the BlackBerry as something you hold—an electronic gadget. This company is back better than ever with software for industrial customers, including security software and services to stop hackers. Quarterly earnings at the end of March were impressive, and April news of a $1-billion cash win from arbitration with Qualcomm can fund more growth. This is the NEW BlackBerry.
Absolute Software Corporation (ABT.TO): Absolute Software Corp provides endpoint security and data risk management solutions for commercial, healthcare, education and government customers, tablets and smartphones. Absolute has seen a strong 21% stock growth year to date and is expected to see strong growth as the cyber security market grows at a rampant pace.
Avigilon (TSX.AVO): Avigilon develops, manufactures, markets and sells HD and megapixel network-based video surveillance systems, video analytics and access to control equipment. We expect strong continuous growth in the video analytics business and a company such as Avigilon is well positioned to capture market share in the Canadian markets.
Sandvine Corporation (TSE:SVC): Ontario is seeing some a vibrant cybersecurity as well, Sandvine corp. is engaged in the development and marketing of network policy control situations for high-speed fixed and mobile Internet service providers. Products include Business Intelligence, Revenue Generation, Traffic Optimization and Network Security. The company has grown 52% year-to-date and we expect strong growth throughout 2017.
Pivot Technology Solutions Inc. (TSX:PTG): Pivot focuses on the strategy to acquire and integrate technology solution providers, primarily in North America. It sells and supports integrated computer hardware, software and networking products for business database, network and network security systems. Pivot has seen explosive growth so far this year and we expect the current cyber threats to add to the already strong sentiment in cyber security stocks.
Source: http://www.baystreet.ca/articles/stockstowatch.aspx?articleid=31275